We recently received a Balalaika from family that once lived in Alaska.  The balalaika is a common folk instrument in Russia and there is a long Russian history/connection in the part of Alaska where this originated. It had been in storage and a few parts were missing that needed to be replaced:
– End Pins – 1 of the 3 end pins remained and I used it as a reference for turning 2 more matching pins on the lathe from a plastic rod.
– Bridge – The bridge was missing but I found dimensions that seemed to match the shadow that had been left by the original bridge; I used these dimensions and some reference photos online to make a replacement out of a scrap of maple. This was very quick work with the belt sander.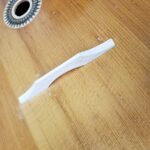 – Strings – This was the easiest part, available online.
With the parts replaced we were able to tune it and it seems to play OK…
With an endoscope camera I was able to find two labels inside: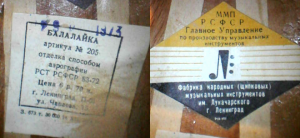 Left Translation: Balalaika. Article #205. Airbrush method finish. Nationwide Standard of Russian Soviet Federative Socialist Republic 83-72. Price 6 rubles 70 kopeks. Leningrad, 15 Chapaev St.
Right Translation: Ministry of Local Industry of Russian Soviet Federative Socialist Republic
Main Directorate of Production of Musical Instruments
Lunacharsky Factory of Folk (plucked string) musical instruments
Leningrad
The left label is also stamped with a 1973 date