Tonight I pulled out the transmission (it's surprisingly easy) to allow access to clean and paint the area above/around the transmission. With the transmission out it was easy to see what had been blocking one of the heater channel entry points just above the transmission, a mouse! It was basically mummified so I'm sure it had been there since the bus was stored outside.  Also, over the weekend I had cleaned/painted the underside of the belly pans but didn't post or take any pictures, so I took a picture of the underside tonight.
Yet another giant spider, this time in the garage. It stayed still long enough to get a ruler next to it.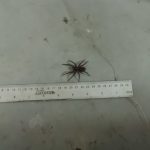 Unwelcome visitor spotted outside the back porch. Bus and garage will get thorough inspection prior to continuing with work. The photo makes it look small at first glace; use the brick for scale, this was huge!