The new place has an open stone fireplace which presents two problems: #1 When there is no fire, the cats could access it and track soot and ashes around, and #2 when there is a fire there's no protection from sparks, shifting logs, etc. The previous owners had a free-standing screen – this wasn't left behind and didn't address either problem well, so I decided to make a custom screen/door to enclose the fireplace. This started by bending an outer frame from 1/2″ square tube to fit the inside of the fireplace opening. I did this in several segments and welded them together.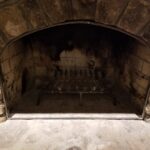 Once the outer frame fit well I made two doors to fit inside. The doors attach to the frame via hinges I made from scrap steel tubing and round bar – when fully open there's just enough room to lift the doors off the hinges if ever needed for cleaning/maintenance.
The left door locks to the bottom of the frame via a round bar that slides up/down inside the door frame. I made a tab on the end of the bar that protrudes through the frame and engages with the handle that's attached to the frame with slots; it also has a tab to keep the right door latched in place. Since stone is irregular there were inevitable gaps, these were filled by tracing the gap onto cardboard and then these strips of cardboard were used as templates to cut out sheet metal strips. The sheet metal strips were secured to the back of the frame with self-taping screws; since the surfaces are rough this also locked the frame in place. The sheet metal was then sealed to the stone with furnace cement and all of it painted with high temp paint.